2022 was a record-breaking year for the manufacturing industry, despite the lingering effects of the COVID-19 pandemic and global supply chain disruptions. Looking to the new year, the manufacturing industry is anticipated to grow by 2.5%, according to Deloitte's projections for 2023.
Several challenges, though, are also anticipated for manufacturers in the new year, including:
Economic uncertainty
Ongoing labor shortages and skills gap
Continued disruptions to the supply chain
As new and seasoned professionals look to advance their careers in the manufacturing industry, there are several trends to keep in mind this year. We'll break down the more critical trends and their relevance to career development in the manufacturing industry in 2023.
Trend #1: An Increased Investment and Adoption of New Technology
Many manufacturers are investing in new technologies to mitigate the risks that the industry's facing. As manufacturers adopt new technology, they will improve their resiliency, increase their efficiency, and protect their profitability.
As they continue to adopt these new technologies (see Figure 1), manufacturers will place a stronger emphasis on an employee's ability to think critically, collaborate, and problem-solve rather than their ability to complete monotonous, repetitive tasks.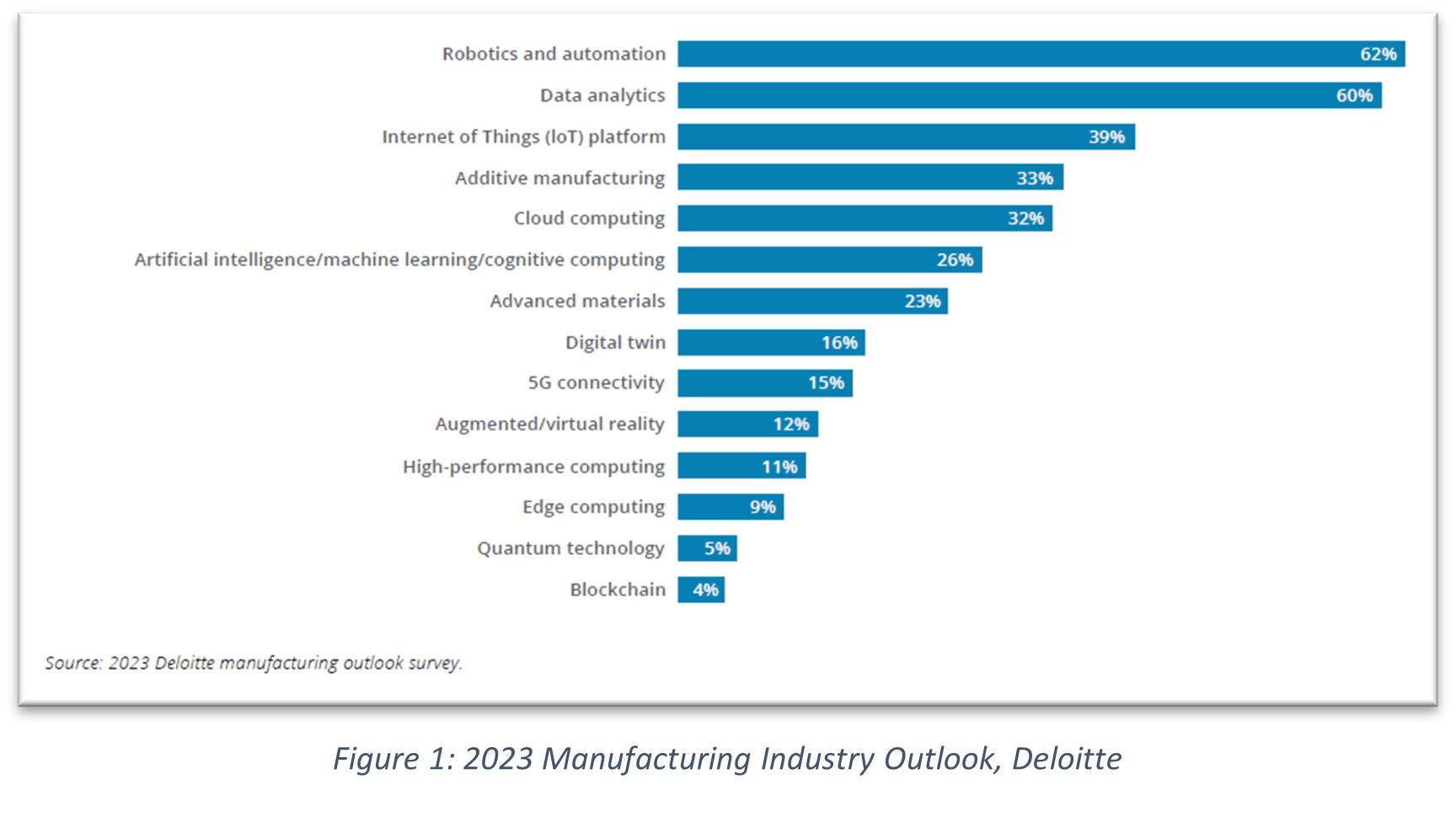 Manufacturing professionals should keep this in mind when evaluating their skillset and look to grow in these areas so they can remain competitive and increase their value.
Trend #2: Upskilling the Workforce to Combat Labor Shortage
With the ongoing labor shortage showing no signs of letting up, manufacturers are embracing a number of strategies to increase hiring, retention, and technical skills on hand. One of these key strategies is upskilling their current workforce.
According to the Manufacturing Institute's report, "manufacturers are now devoting time and resources to upskilling their current employees with the skills they will need in the future…as the manufacturing has become more technologically advanced, some skill needs have shifted, most notably in data analytics and digitization."
As they increase their investment in digital technology, manufacturers need to upskill their employees' technical abilities, as well. Gone are the days of overly manual tasks. With the growing use of robotics, AI, and automation, manufacturing professionals are being called on to use, maintain, and troubleshoot this technology.
Automation enables a company to be more competitive. Anytime it can take redundant tasks and automate those, it frees up people to do more oversight kind of work and develop processes.
-- Steve Hirsh, Founder & Director of Engineering
Combine the labor shortage with widespread adoption of new technologies, it is in manufacturing professionals' best interest to hone their technical, critical thinking, and problem-solving skills.
Be proactive and find opportunities to learn the skills that are going to be most desired by employers. Many companies offer upskilling opportunities within their organizations, such as internal training programs and tuition reimbursement programs. But there are plenty of external (often free or very affordable) resources that you can use to diversify and grow your skillset.
Trend #3: The Push to Reshore Continues
US manufacturing was already undergoing a push to reshore, with many companies bringing their operations back to the States and millions of manufacturing jobs being added to the economy in the last few years. This push has only been reinforced by factors like the COVID-19 pandemic, supply chain unpredictability, and geopolitical unrest.
More than ever, manufacturers are looking to take advantage of reshoring benefits:
Reduced lead times
Higher product quality and consistency
Better collaboration and responsiveness with local suppliers
Lower total cost of ownership
The industry's workforce needs are only expected to grow, with more reshoring projected in 2023. Over the next decade, approximately "4 million jobs will likely be needed and 2.1 million are expected to go unfilled," according to the Manufacturing Institute's October 2022 report.
Individuals in the manufacturing industry should keep in mind that their work is only going to increase in value in the coming years. Those who are considering a manufacturing career should be aware of this massive workforce need. It spells job security, competitive salaries, and opportunities to grow.